Helicopter
MD Explorer Agenda
Mission Operations (Optional Equipment for Dedicated Missions)
Contract Logistics Support
Summary
Category A performance capability

Cockpit with outstanding field of view

NOTAR® Anti-Torque System

Composite/Aluminum hybrid fuselage

Crash resistant fuel cell

Built-in steps and work platforms

H-type empennage with twin vertical stabilizers

6-passenger stroking seats

Wide, 52-inch sliding doors

On-board health monitoring system and computerized track and balance

Integrated instrument display system

5-bladed main rotor with swept tips

Hingeless low drag main rotor hub

Bearingless, All-Composite Rotor System

Technology: How It Works
The NOTAR® system consists of an enclosed articulated fan driven by the main transmission, a circulation control tail boom, direct-jet thruster, and vertical stabilizers.
Low pressure air, forced through two slots on the tail boom, causes the main rotor downwash to "hug" the contour of the boom, creating lateral lift that counteracts main rotor torque.

NOTAR®: Performance
Greater Safety
FACTà 21 percent of all incidents or accidents are due to tail rotor strikes or loss of tail rotor effectiveness
NOTAR® Eliminates these Problems
Noise Abatement
Twice as quiet as any other helicopter
Lessened Pilot Workload
Uses the Coanda Effect to provide tailboom lift and anti-torque
Improved stability and controllability
Reduced sensitivity to wind direction on helicopter control
Diminished Aircraft Vibration
Increased passenger comfort
Reduced stress on components and airframe
ENGINE
The MD Explorer is equipped with twin PWC 207E engines with:
Integrated diagnostics system
Integrated water wash system
Integrated fire detection/ suppression system with cockpit detection/operation
Inlet barrier filters for inlet protection
Integrated engine and gearbox EICAS
Independent engine drive to main rotor transmission
Universal Avionics Glass Cockpit
2 or 3, 10.4" landscape high-resolution LCD displays
"Point and click" display control using collective-mounted Cursor Control Device
Electronic Control Display Unit (ECDU) for secondary display control and supports growth for utility functions (SSPD)
Remote Data Concentrator Unit (DCU) for analog I/O and non-critical functions
Dual Data Acquisition Units for engine data and EICAS functions
Helitune Balance and Monitoring System with HUMS Option
Reference Set Panel for SPD / HDG / ASEL selections
Secure Digital (SD) card for nav., chart and checklist databases
Flight Data, Cockpit Voice, and Airborne Image recorders
Becker Digital Audio System
ADS-B Out/In, and FIS-B Options
XM Wx with growth to Iridium Wx
Balance, Health & Usage Monitoring Systems

Baseline BMS system with optional HUMS capability

Standard: Balance and Monitoring System with onboard track-and-balance

Option 1: Basic HUMS system using minimal set of accelerometers

Option 2: Enhanced HUMS system using additional accelerometers and sensors

On-board HUMS provide scalable solutions for Transmission Vibration Monitoring, Structural Vibration Monitoring, Structural Usage monitoring and Rotor Track & Balance.

Operational readiness will increase as HUMS, sensors and embedded diagnostic software monitor and communicate the health& maintenance needs of critical components

Over time, HUMS will result in:

Early detection of developing flaws and better data for faster troubleshooting

Reduction of inspections & test flights

Increased parts lifecycle

Lower lifetime operating costs

 
4-Axis Autopilot (AFCS)

3-axis standard with optional 4-axis

Single-channel, full-authority, fail-passive system

General purpose processing hardware host, use of SSPD for actuation control

Efficient software platform allowing for growth in capability and support

Will provide evolutionary path to continual improvements and control enhancements

Full integration with Universal Display System for forward-fit applications
Ingress/Egress

Cabin doors provide the largest opening (1.32m) of all light twin-engine aircraft

Rear baggage compartment doors allow for rear cabin loading

Cabin pass-thru allows equipment transfer from front to rear

Cabin area floor provides a flat, unobstructed area

Both cabin sliding doors can be open during flight
Crew & Passenger Seating

Crash attenuating crew seats stroke @ 13.2g's to minimize back injury

Meets Part 27 requirement for 30g's @ 30 fps

Easy-release 4-point restraints

Easy removal without tools for mission-specific reconfiguration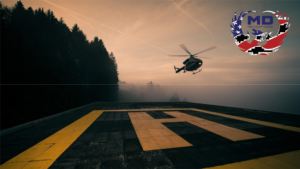 Performance Standards
| | | |
| --- | --- | --- |
| Maximum Cruise Speed* | 135 kt | 248 km/hr |
| Maximum Range, Standard Fuel* | 293 nm | 543 km |
| Maximum Endurance* | 3.2 hrs |   |
| HOGE, ISA | 10,400 ft | 3,170 m |
| HOGE, ISA +20° C | 7,000 ft | 2,134 m |
| HIGE, ISA | 12,200 ft | 3,719 m |
| HIGE, ISA +20° C | 9,000 ft | 2,734 m |
Weights & Load Capacity
Noise Abatement
The MD Explorer is a pioneer in "Green" technology, producing a noise signature that is the lowest among all light twin-engine helicopters and lower than many smaller single-engine helicopters.
Low noise signature provides less warning for possible enemy to incoming threat, increasing safety for the flight crew.
Avg.
% LOUDER
THAN MD900
Model
TAKEOFF
OVERFLIGHT
APPROACH
Margin
(OVERFLIGHT)
LEVEL
MARGIN
LEVEL
MARGIN
LEVEL
MARGIN
MDHI MD900 (Explorer)
85.6
9.1
83.3
10.4
89.6
6.1
8.5
Airbus EC145
88.0
7.5
87.2
7.3
91.3
5.2
6.7
31%
Airbus EC135T2+
88.3
6.2
85.7
7.8
94.9
0.8
4.9
18%
AgustaWestland A109S
90.5
4.5
88.4
5.6
91.2
4.8
5.0
42%
Bell 206L-4
88.3
4.8
85.4
6.7
90.8
3.3
4.9
16%
Airbus AS355NP
88.7
5.5
86.7
6.5
92.8
2.4
4.8
27%
Bell B230
89.1
6.7
90.6
4.2
94.3
2.5
4.5
66%
Airbus BK117C1
90.0
5.3
90.1
4.2
95.8
0.5
3.3
60%
Airbus AS365N3
93.0
3.3
90.5
4.8
96.1
1.2
3.1
65%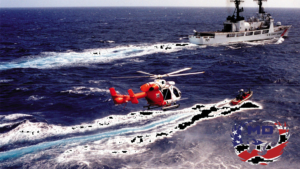 SWAT Operations

The optimal combination of performance, capacity and low operating costs to support any mission.

Load equipment up to 13ft./3.9m long

Easily maintained in diverse environment

Highly configurable in accordance with customer requirement

Wide, sliding loading doors for easy (un)loading of personnel

NOTAR® for tail strike protection to allow landing in very confined spaces

Fast rope or rappelling rope available for non-landable areas

Exceptional maneuverability, Category A Certified, and excellent performance expands operational capability to the most demanding of environments

 
SWAT Equipment Package

NVIS Lighting Certified for Night Operations

600 lb Personnel Hoist

Rear Mounted Trakka A-800 or SX-16 Searchlight

Nose-mounted MX-10 EOIR Sensor

Multi-Band Direction Finder System

Fast Rope Insertion Extraction System or Rappelling Rope

62mm Machine Gun, Mounted on Swing Arm, Left and Right

Ballistic Armor Protection

 
VIP Operations

Transportation with executive level performance and style.

Composite structure with one-of-a-kind aesthetics

Universal Avionics integrated NextGen flight deck and three-axis auto-pilot

Panoramic visibility

NOTAR® eliminates tail rotor failures and lower vibration for passenger comfort and reduced noise

Full interior customization options

Cabin seating for up to six passengers with dedicated baggage compartment
EMS/Medical Operations

The premier choice of emergency medical services around the globe, providing unmatched versatility and proven reliability.

Air Ambulance Technologies® EMS interior

Highly modular

30-minute installation/removal

Expands Ministry of Interior capability for basic transport without additional cost

Lightweight (~300 lbs./136 kg)

NOTAR® and main Rotor 12 ft. above the ground for safe ground operations and low vibrations for patient comfort

Latest medical equipment package

Rescue, Disaster, Intensive Care and Neonatal configuration
Law Enforcement Operations

The most prolific helicopters in service with European law enforcement agencies.

Twin engine reliability

NOTAR® for low noise signatur

Exceptional maneuverability

Safe confined space operation

Low direct operating costs

Unrivaled cockpit visibility

Large cabin suitable for multi-role law enforcement operations

FLIR operator station for reconnaissance

Video Recording for later examination or evidence

Airborne Command and Control

Microwave transmission for audio/video feedback to ground for tactical operations

IR Lasing on criminals for covert targeting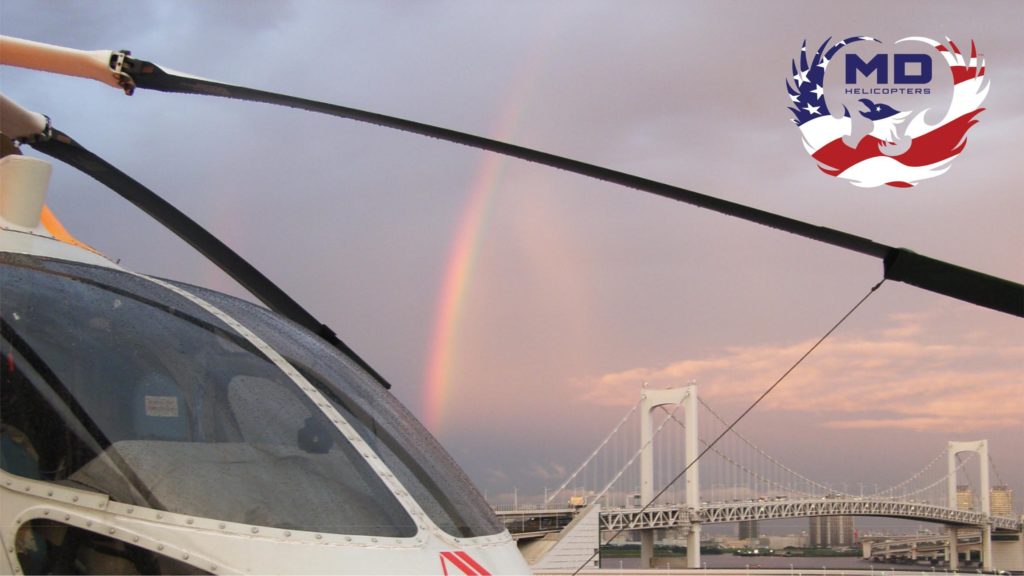 Training Capability
MD Helicopters has the capability to:

Train from beginner to Instructor Pilots the MD product line to fully utilize aircraft capability (Includes tactical training)

Train local technicians to offer in-country support to

Extend the life of the aircraft

Increase operational readiness

And lower the cost of aircraft ownership
Contract Logistics Support
Customer will have the option of exercising MDHI CLS services.

MDHI CLS Supports the Entire Operation Sustainment Requirement.

MD Provides Skilled Technicians, Supplies & Engineering Support.

MDHI has the capability to develop entire infrastructure from the ground-up to support the maintenance of our aircraft.

Combat Proven U.S. Army / Afghan Air Force CLS Contract (4+years)

Sustained Fleet Availability >97%
Enhancement Cycles
MDHI maintains constant enhancement cycles to improve the MD Explorer to ensure that it is modern and will meet future customer needs.
Reactive plasma displays with projected LCD image

Updated look to traditional HUDs

One-piece glass cockpit potential (vs Multi display)

Multi-touch touchscreens

Synthetic/Enhanced Vision

Wearable augmented reality:

Heads-up / Close-to-Eye displays

Temporal and geospatial context sensitivity

Other Potential Technologies:

Voice Recognition

iPad / Android solutions with Wireless Data Updates

Wireless Avionics

Fully connected aircraft / Cloud Computing

Internet of Things & M2M Communication

All technologies will address NVIS compatibility

Engine Parameters

Cargo Loads

Navigation Information

Targeting & Stores Management

Primary Flight Displays
MD Explorer Summary
Versatile: Proven performance serving a variety of mission sets (Police, EMS, Search and Rescue, VIP, Utility)
Flexible: Successful operation for nearly two decades in multiple operational &interior configurations
Safe: Proprietary NOTAR® System delivers quieter, smoother, safer operation in confined areas
Proven: Lowest operating costs and superior hot performance and range versus any other light twin
Preferred:      Pilot's and mechanic's choice for ease of use & maintenance